Legend
IBIS-TRAD 7 simplifies estimating cost
In IBIS-TRAD 7, it is possible to gain insight into the progress of the cost estimating process using assembly estimates. Furthermore, the readability of your budget can be improved by using different colours for the element lines at different levels.
The various improvements on the budget rules screen makes drawing up a project budget more intuitive and flexible.
Top 5 improvements
Collapsing and expanding assembly estimate lines.
Pasting and copying within the assembly estimate lines.
Displaying a budget in the order of a different column (e.g. NLSFB versus STABU2).
Improved readability of assembly estimate lines below level 4 with the use of different colours.
Easy switching between budgets with side-by-side tab display.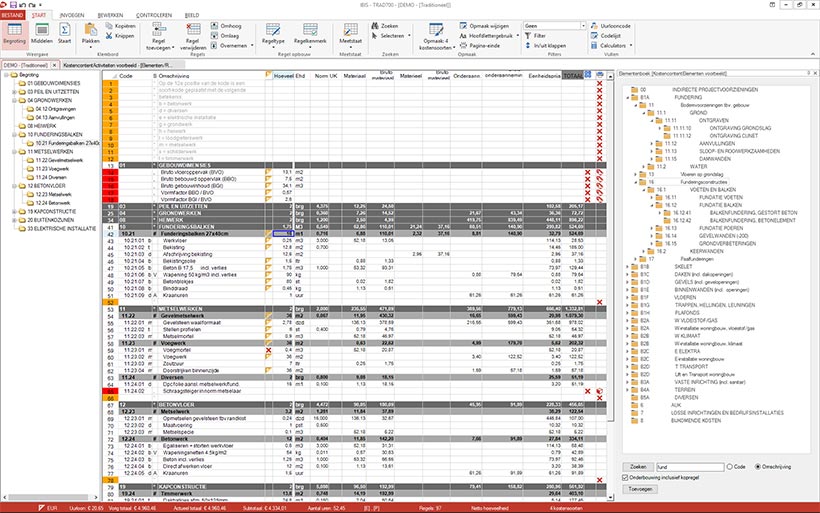 IBIS-TRAD 7 simplifies working with measurement data
An important component of IBIS-TRAD is the measurement data used to determine quantities.
Working with this "foundation" for any budget has been made both easier and more insightful in version 7. This allows you to e.g. reuse measurement values elsewhere in the same data file and makes it clear which cell from the data file is connected to the selected budget line. Several other oft-requested features for measurement data have also been added to IBIS-TRAD 7.
Top 5 improvements
Reusing measurement values elsewhere in a data file via a free cell formula. This feature was a popular request, particularly among people who used to use other calculation software.
Individual lines are easier to move around in a measurement data file, comparable to budgets.
Use of colours to make the relations between measurement data file cells and budget lines clear.
Using measurement values as fixed quantities in element budgets is possible, as with a link to BIM measurement data files.
The reported errors when working with floating measurement data files have been resolved.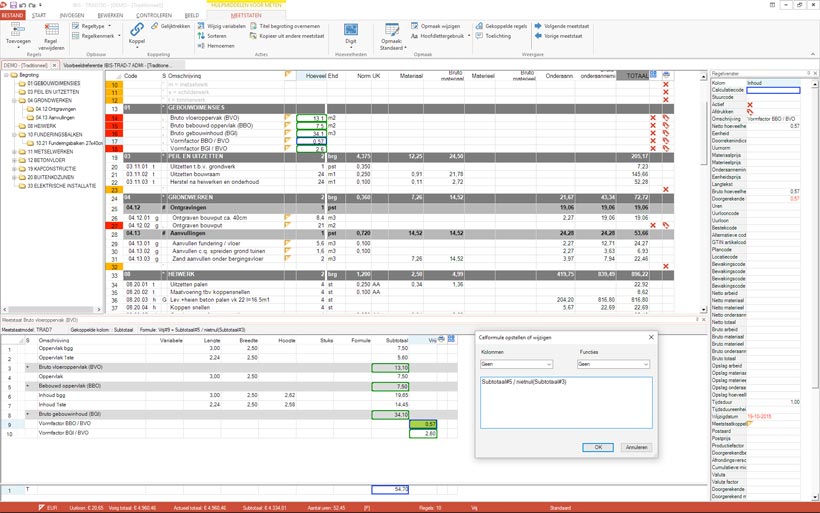 IBIS-TRAD 7 simplifies the creation and printing of budgets
For many users, an important advantage of IBIS-TRAD is the freedom and flexibility it offers users when it comes to creating their budgets. This can be used to e.g. assign budgets to various departments or disciplines (e.g. residential or utility construction or civil engineering) to suit your own budgeting methodology. Because every screen display also forms the basis for the printed representation of your budget, IBIS-TRAD 7 also contains additions and improvements that make it even easier to print your budgets.
Top 5 improvements
Addition of free text screen/print category to layout, to clarify the overview of the available designs and make it easier to tailor the design to a given department or discipline.
Automatic scaling of the font size when adjusting the design to suit the page width.
Printing to PDF file format without requiring the use of a PDF printer.
Modifying the budget style in the print view with the ability to remove closing element lines and only show element totals above the clarification with cost lines.
Customisable underlining, colours and line designs for the totals of numerical columns.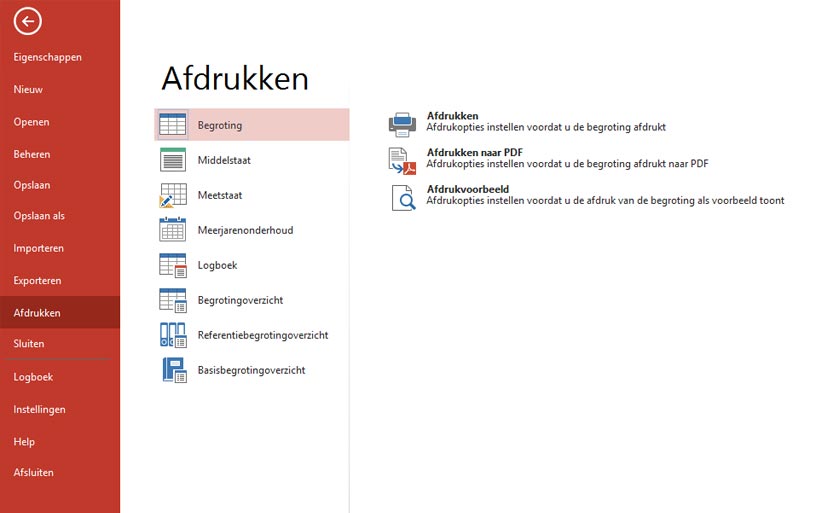 IBIS-TRAD 7 simplifies the import and export of files
When drawing up a budget, it is important to be able to work with different file formats quickly and easily. IBIS-TRAD 7 therefore simplifies the process of importing and exporting all necessary information, e.g. by dragging and dropping external files as a new budget into IBIS-TRAD 7. The software will automatically recognise the correct type, which saves you valuable time.
Top 5 improvements
From now on, a budget with all necessary basic settings will automatically be generated.
Most external files can be dragged and dropped into IBIS-TRAD 7 in order to easily add them as a new budget.
IBIS-TRAD 7 recognises which format version is being imported for Pricat XML files.
Saving and exporting have been made easier and clearer; saving creates a new budget and exporting creates an external file.
This new version no longer supports the import of TRAD5/INFRA3/BouwCalc and dBbase files.